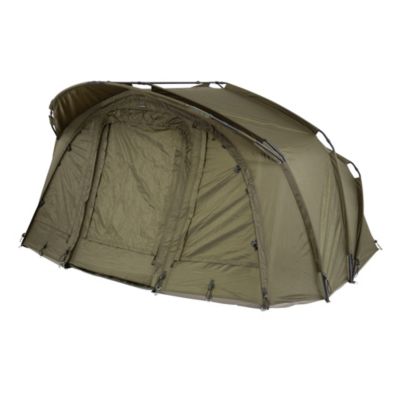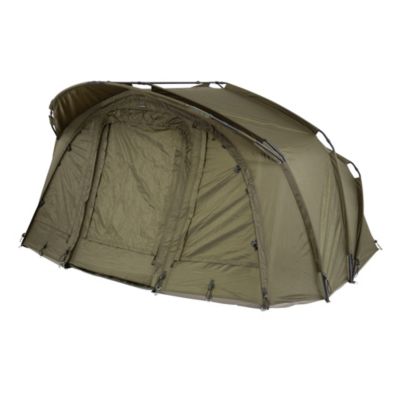 Details null
http://www.chubfishing.co.uk/chub-tents-shelters-bivvies/chub-cyfish-2-man/1404662-0300.html
Product Actions
Front peak and side wings for exeptional protection
Unique Back Draft Ventilation System
10000mm Hydrostatic Head
New 4-section rib system for fast and easy set-up
Spaced pole design for more usable space
Rod Chock Strap system
Full front set of clear window panels included
Heavy duty groundsheet with dual clip and elastic pegging system
2 way removable door system with green, clear and mozzy window panels
Standard supplied with tension bars, heavy duty T-pegs and Zipped carry bag
Our new Cyfish Bivvy offers execeptional value with a full overwrap system included.
Reviews
Chub Cyfish 2 Man
is rated out of
5
by
3
.
Rated

5

out of

5
by
KentKarper
from
Superb With So Much Room
Superb Bivvy with so much room you could have a party ! After endless searching of websites, forums and magazines I finally made the choice to buy this bivvy. Couldn't be happier with it. I bought this for France trips as it came in a complete package with overwrap, poles, vents, peak and clear windows. There is nothing else you need to purchase by the way of add ons etc. This is a true 2 man system. 2 Bedchairs fit lengthwise from back to front on either side of the bivvy and there is still enough room in the middle to have a table and move about. The features are endless, massive peak, mozzie windows, mozzie rear vent, clear window/door panels included, rod retaining straps, large peak, good groundsheet. I especially liked the rear vent which has a dual zip and opens downwards so you can have just a little bit of airflow or zip it right down depending on the weather. My mates ribbed me at the start of the week for having a bivvy the size of a house, it's footprint isn't massive but there is loads and loads of space. By the end of the week they admitted it would have been nice to have more room in their own cramped shelters and spent a lot of the week hunkered down in mine making tea and chatting. 10.000mm hydrostatic head meant I kept dry, even without the overwrap on. In the cooler months the overwrap will be deployed to battle condensation but so far with the vents open I haven't had the requirement to do so. Overall you'd be hard pushed to find a better bivvy system at this price and quality. Chub make some excellent products, I have their luggage as well which is fantastic but tackle shops near me don't seem to stock their stuff and Chub don't seem to advertise/market themselves as much as some other brands do. I can't think why as their gear is all good.
Date published: 2018-09-22
Rated

5

out of

5
by
Duncan
from
2 man Space 1 Man Luxury
I decided that I needed a 2 man bivvy so that the wife could come along on the odd overnight session So after much extensive research and hours of looking at various options and brands I went for this the Chub Cyfish 2 man. It ticked all the boxes , It was for a 2 man fairly compact in the supplied oversize bag which meant in my car it would lie along the back seat ,It doesn't weigh a great deal either. However once its out of the bag and assembled(which again doesn't take too long either) this is I'd say about the perfect size. You can get two wide boy bedchairs in here and have a decent space between them. A lot of the other so called two man bivvys just don't really do this and once you add the included overwrap this makes thing even more comfortable swallowing all the kit as well. The main bonus for me was that when the wife didn't come with me on a 2-3 day session I discovered that I could get my bedchair and three other normal chairs as well whilst it was raining outside, great for a social in between eating and fishing. The actual foot print isn't massive so it will go in a lot of swims Feature wise it has everything, nice large rear vented mozzi mesh that feels like it will last unlike some others I could mention and mozzi mesh on the front door as well as to either side of the door too. The front door will do letter box opening etc and also is supplied with clear window for the wet days when you need to keep out the weather. The front peak keeps a lot of the weather out anyway. The whole front door will zip off should you feel like fishing an open front so you can keep a good eye on the water. The heavy duty ground sheet clips in at the back and then its held in place at the front with some elasticated eyelets that you peg in attached to the bivvy. It comes supplied with heavy duty pegs as well which are truly heavy duty due to the fact the top of the peg has the metal running right the way through it instead of just a molded plastic handle which are prone to breaking should you need to hammer them in to hard ground. The supplied over wrap extends the front slightly giving you some more storage and once in place so far I haven't had any of the dreaded condensation and the temperature seems to remain nice and constant thought out the use. A 10,000 hydro-static head also means that it keeps the water out, again so far no leaks. All in all a very good piece of kit for the money, you would have to spend twice as much to get anything better than this and then you'd probably question whether or not it was worth the extra compared to the Chub Cyfish.
Date published: 2018-09-06
Rated

5

out of

5
by
Tenchy
from
Superb bit of kit
Superb bivvy , superb price considering what you get and it looks Amazing huge inside was perfect for a week in France, I cannot fault this bivvy, I have owned the original cyfish 1 man and that's still going strong, both well made great price and you would be a mug not to have one on the bank 10/10 chub
Date published: 2019-03-14